Junts per Catalunya close European election campaign in London
Arriving to a standing ovation and cries of "independence", President Carles Puigdemont and ministers Toni Comín and Clara Ponsatí brought their whistle-stop tour of European cities to The Wesley Hotel near London's Euston Station, promising to be the voices of Catalonia's political prisoners and exiles in the European Parliament.
Introducing them, Anna Forn, daughter of one of those political prisoners, said that the Spanish judiciary's decision to detain the Catalan politicians, yet to be convicted of any crime, for up to a year-and-a-half (and counting) was "a shame for the European Union". "But," she added, "we have three free voices who have challenged the Spanish state from the first moment in exile."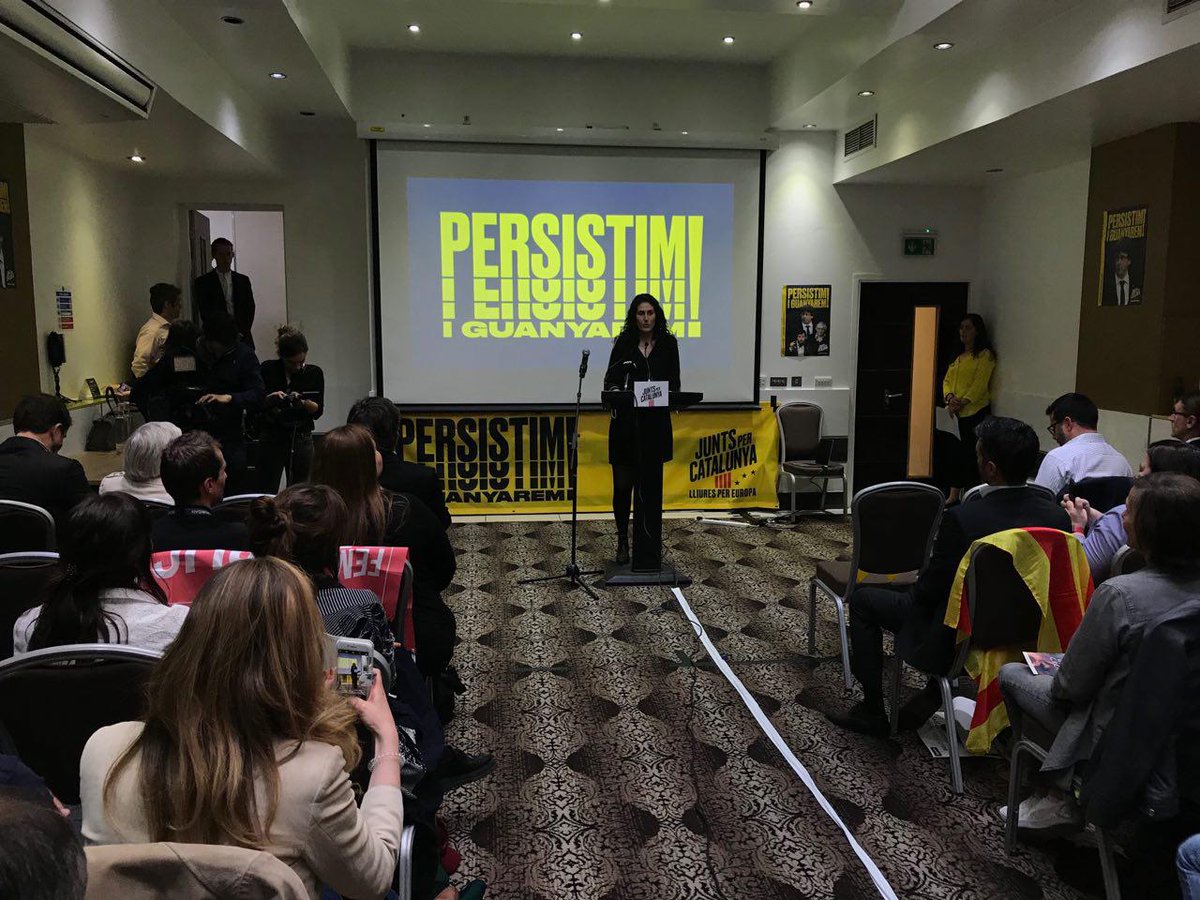 Forn referred to Puigdemont, Comín and Ponsatí, who head the list for Junts per Catalunya – Lliures per Europa ("Together for Catalonia – Free for Europe") in Spain, a country they have not been able to return to since they left for exile in October 2017. Forn's father, Quim, is the Junts per Catalunya candidate for mayor of Barcelona, an election taking place on the same day as the European Elections in Spain and Catalonia. If elected (and polling suggests he will win a seat in the town hall, but will not come close to the mayoralty), he will not be able to take up his seat or his role, in the same way other political prisoners were prevented from taking their seats in the Catalan Parliament following the election in 2017. He is, however, still allowed to campaign from the videoconference room at Soto de Real prison in Madrid. Like many of the political prisoners, he has appeared via live feed at numerous campaign events in Catalonia's capital city, and given media interviews, all timed around the tight prison and judicial schedule.
Forn, the younger, said she was in London to give her father the voice he wanted to have, to be the spokesperson for the situation they found themselves in. For her, she said, it was with pride she introduced Puigdemont, Comín and Ponsatí, members of the government "who made the 1st October referendum possible." She was not the only one.
The first speaker Forn introduced was not one of the candidates, but Josep Costa, First Vice-President of the Parliament of Catalonia. "It is very important that President Puigdemont wins this election," he said, "and that ministers Toni Comín and Clara Ponsatí enter the European Parliament as representatives of the people of Catalonia."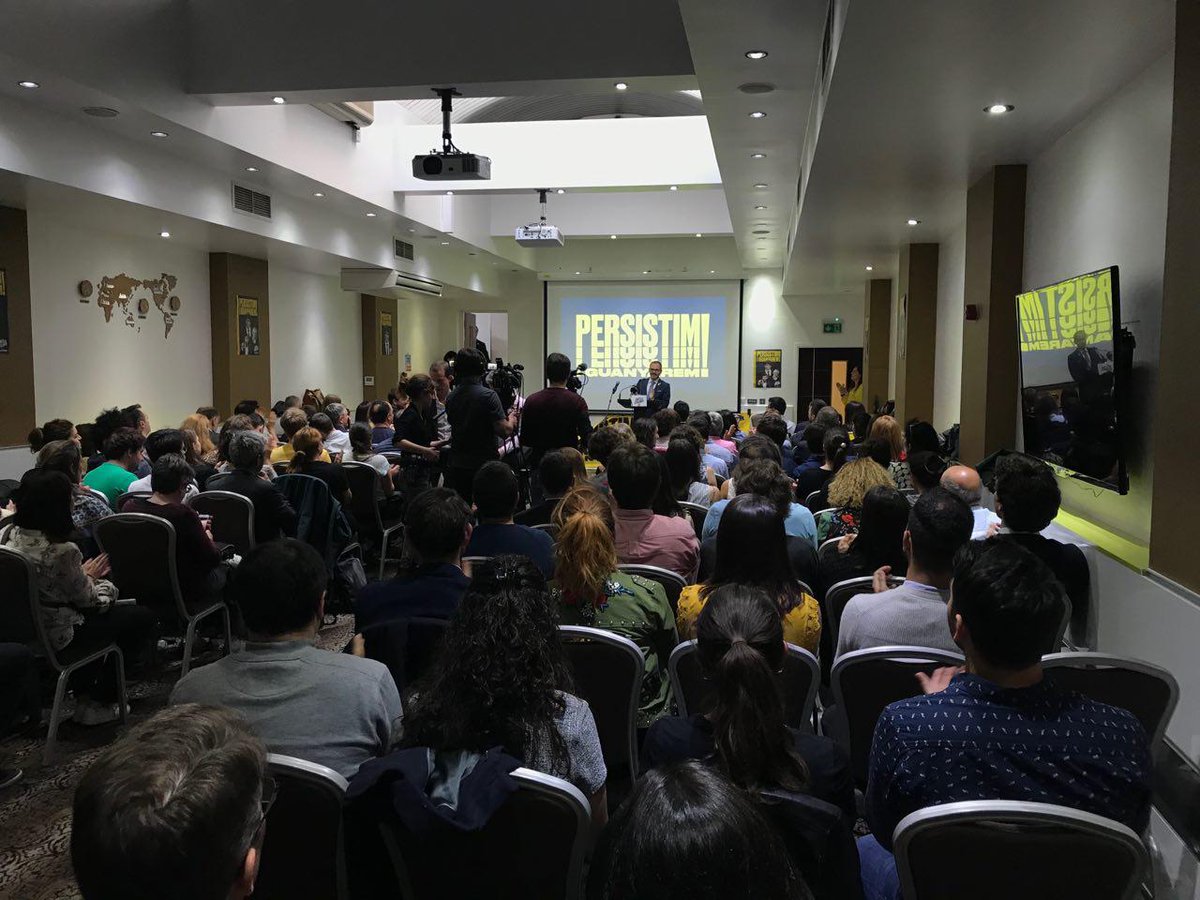 Costa, an independent member of the Junts per Catalunya coalition, was at pains to remind people that they could vote for Puigdemont and his team "from any place in the Spanish state." For the European elections, Spain is a single constituency electing all of the country's 54 members of the European Parliament (59 once the United Kingdom leaves the EU). In the past, this has led regional parties and coalitions like Junts per Catalunya to create unified lists to increase their chances of gaining representation in the EU's legislative assembly, as Catalonia's other leading pro-independence party, Esquerra Republicana de Catalunya ("Republican Left of Catalonia") have done in this election.
Junts per Catalunya, however, are heading into the election on their own, making the task of ensuring their three leading candidates are elected a difficult one. Most opinion polls have suggested only one or two will be sitting in the European Parliament when it is reconvened in July. To win three, they will need support from elsewhere in Spain. "Democrats across the state," was therefore Costa's rallying cry, "defenders of rights and self-determination, know that we will take democracy and 1st October to the heart of the European Union." Whether it will be enough will be discovered when then votes are counted on Sunday.
The first candidate to speak, again introduced by Forn, was Clara Ponsatí, the Education Minister in Puigdemont's administration. It was her decision to open the schools to be used as polling stations for the referendum which led to a European Arrest Warrant to be issued for her when she began her time in exile in Belgium. The schools, the state's argument goes, should not have been used for an illegal referendum. Ponsatí, though, is unrepentant. "The people gave us a mandate," she said last night, "and we are determined to make it a reality. Since the first day in exile, we have been determined to persist, so that the seed of 1st October does not become sterile."
In March 2018, after the European Arrest Warrants had been withdrawn, Ponsatí returned to St Andrews University, Scotland's oldest seat of higher education, where she had been director of the School of Economics and Finance before joining Puigdemont's government in July 2017. Later that month, Spain re-issued the Warrants, and her case was taken up by Scottish lawyer Aamer Anwar, the Rector of the University of Glasgow. Ponsatí presented herself to the police and at the initial hearing was released on bail without any conditions, with the Warrant being again withdrawn that July.
She has since joined many of her fellow politicians in exile touring around Europe explaining the Catalan crisis to new audiences, and, latterly, campaigning for the European elections. They ended their campaign in London, "a campaign we have taken to many cities in Europe," she said proudly. "But we have not gone to be tourists," she insisted, "but to make the free voice of the Catalans, who on 1st October decided to be a free republic, heard." With the European elections, "we have an opportunity," she added, "which we embrace because our candidacy is that of hope, tenacity and freedom. We will fill the ballot boxes with votes, as we did on 1st October. Give us the votes, force and courage to continue the fight."
Ponsatí continued, "this year-and-a-half, we have put the authoritarianism of the Spanish state on the ropes. Imagine what we could do with the institutional tools and materials if we are members of the European Parliament." The room went wild with applause. Ponsatí, who occupies third place on the Junts per Catalunya list, seemed to have met with their approval.
Would the same be said of Toni Comín, second on the list and the penultimate speaker of the evening? Earlier that day, Comín had arrived at St Pancras International with Costa, Ponsatí and Puigdemont, and announced their arrival by playing Els Segadors, Catalonia's national anthem, on the station piano. His musical talent was matched equally by his oral talent, with this author at times struggling to keep up with his passionate discourse.
"Every time I come to London," he said, "I like to remember the words of Prime Minister David Cameron, who allowed the Scottish referendum: 'I am a British nationalist and I love the unity of the United Kingdom, but before that I am a democrat'." The Scottish referendum was close-fought, with passionate arguments on both sides, and after a free and fair electoral process, a narrow majority voted to remain a member of the United Kingdom. Scottish nationalism has not gone away as a result (especially in the context of a Brexit a majority of Scots did not want), but a free and open referendum was all they could have asked for, and, Brexit aside, it settled the question "for a generation". A large majority of Catalans, both in favour and against independence, want a referendum on Catalan independence for the same reason; the issue should be settled at the ballot box, not in the courtroom.
Comín was equally as confident of other countries' dedication to democracy. "We came into exile," he said, "because we knew we had a winning strategy. So that we could confront the authoritarian drift of the Spanish state with the free space of Europe, where public opinion embraces the principles of democracy."
Meanwhile, the three candidates have had to fight to even get their names on the ballot papers, with a decision not being finally reached until two weeks ago. "We had to fight a legal battle," Comín explained, "because the JEC (Spain's electoral authority) wanted to expel us from the list. They don't want Puigdemont, Ponsatí or me to be members of the European Parliament." The JEC's decision was overturned, and the three now stand ready to take their fight to the heart of Europe.
"I ask you for your confidence," Comín said, "because it is essential that all three of us are elected. We want to be the free voice of a people who are fighting for their freedom," he concluded. A further round of wild applause, and Comín, too, had clearly won the room. Barring a major setback, he should be taking that same passion to the European Parliament after Sunday.
Finally, it was the turn of the Catalan President in exile, Carles Puigdemont, who will formally renounce his claim to the presidency, a claim he has maintained since Spain's government dismissed him under Article 155 of the Constitution. Maintaining both that the application of Article 155 was illegal, and that he had the necessary votes in the Catalan Parliament for re-election after the December 2017 elections, were it not for judicial interference, European Parliamentary rules prohibit members from also being members of national or regional assemblies. Renouncing his claim to the presidency is a price worth paying, he believes, to be able to take the Catalan cause to the heart of Europe.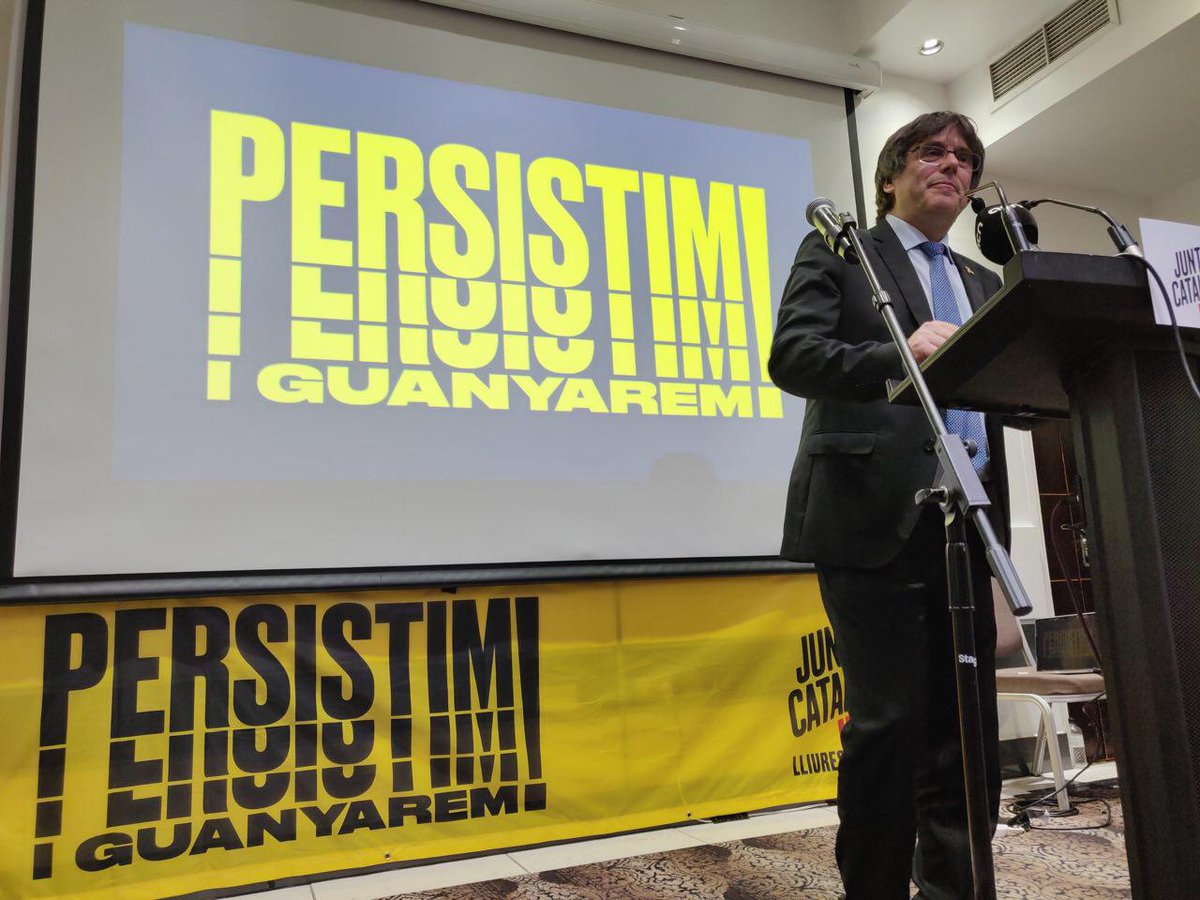 "We have challenged all the difficulties," he said to the packed conference room, "because we knew what we came into exile to do: protect the legacy of 1st October, which they wanted imprisoned and silenced. To speak on behalf of Catalonia, the victim of a fierce repression, unacceptable in the EU."
President Puigdemont is under no illusions as to how the Spanish government would feel were he to be elected, either. And he expressed this clearly last night, saying, "they know perfectly well that if we are elected we will be able to act with full rights as members of the European Parliament, and that makes them very afraid. There will not be suspensions. They will not be able to stop us from being able to travel around the world with full immunity."
Puigdemont, along with all the other political prisoners and exiles, has sacrificed a lot in the fight for democracy in Catalonia. He has been unable to return home since 2017, and admits that he is unlikely to be able to do so again until Catalonia becomes an independent republic, knowing that the moment he steps foot on Spanish soil, he will be arrested. But regardless of the personal risk, he, too, is unrepentant, and determined to continue the fight.
"On 26th March," he said, "we have the most disruptive opportunity since 1st October to send an unequivocal message to continue the fight. We want to enter the European Parliament and say: 'we are the people of 1st October, we have won the elections in Catalonia and you will have to listen to us'."
And with a further standing ovation, more loud cries of "independence" and a rousing rendition of Els Segadors, the final Junts per Catalunya campaign event was brought to a close, with those attending left in no doubt about how they should vote in these elections.
If they want to put the Catalan cause, the fight for freedom and democracy, at the heart of Europe, they can only do so by voting for Junts per Catalunya – Lliures per Europa, and electing Carles Puigdemont, Toni Comín and Clara Ponsatí to the European Parliament on Sunday.
Photos: JuntsXCat/Twitter