"Tony Staplegun" takes aim at the Rochester West by-election candidates
As any Facebook user will tell you, receiving friend requests from complete strangers is not unusual.
But one friend request from a "Tony Staplegun" caught my attention.
In posts which must bee seen to be believed, the (presumably) anonymous user has taken aim at all of the confirmed candidates in the Rochester West by-election.
"Tony" starts by looking at the independent candidate, former Tory and UKIP councillor Chris Irvine, who, before defecting to UKIP, had been selected as Kelly Tolhurst's running mate in the ward.
The next candidate to take flak from "Tony" is the Conservative candidate Alan Kew, whose business relationship with the other Rochester West councillor Stuart Tranter is a matter of public record.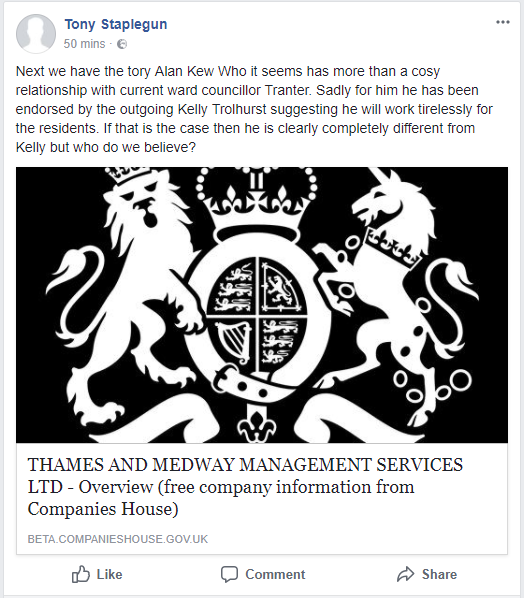 "Tony" doesn't seem to have much to say about the Liberal Democrats' Martin Rose…
…but does have plenty to say about UKIP's Rob McCulloch Martin. Incidentally, I wouldn't advise visiting Rob's "UKIP Dads" page if you are easily offended.
The Green Party's Sonia Hyner seems to have come off best from "Tony"'s posts, even suggesting that she could "do surprisingly well" from a "protest vote"…
…before returning to the criticisms, finally aiming his sight at Labour's Alex Paterson.
It is not clear who is behind the "Tony Staplegun" Facebook profile, which is published without a profile or cover photograph, but whoever it is appears not to be a fan of Medway's political class.
That said, it is surprisingly refreshing to see a little bit of humour injected into what seems to be an otherwise stale election campaign.